Sage Reynolds - Jewelry
Turquoise Rainbow Cuff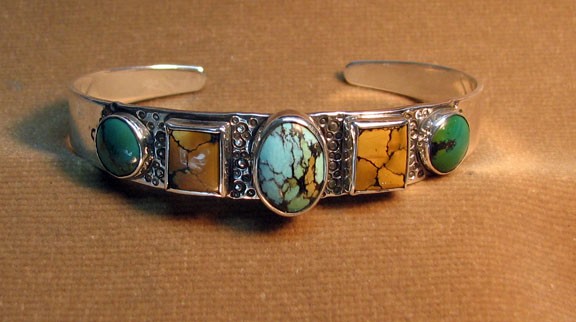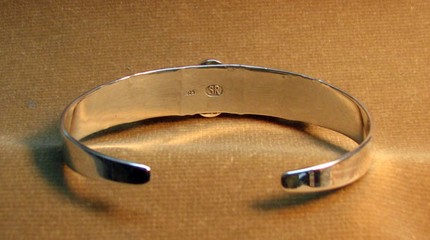 This is a sterling silver cuff set with three colors of Turquoise. The stones come from China, this collection shows some of the startling variety of color in which turquoise is found. The blue is from copper, the khaki is from iron and the green is copper with a trace of nickel. This medium large cuff has a chased texture around the stones and has been antiqued to show the chasing. It is signed with my mark and is marked 925 for sterling. It weighs .8 ounce.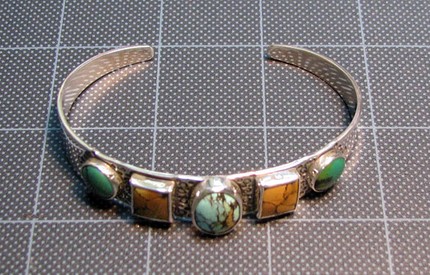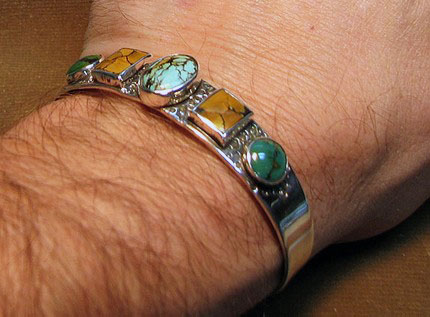 This bracelet is 2 5/8 inches ( 67mm) wide by 1 7/8" (48mm) tall, it is 1/2" (15mm) wide under the large central stone. There is one photo taken on a grid of 1 inch squares. This is a little larger than the standard size, there's a picture of it on my wrist, it'll look great on you.
It will arrive in its own box lined with black velvet.

SOLD